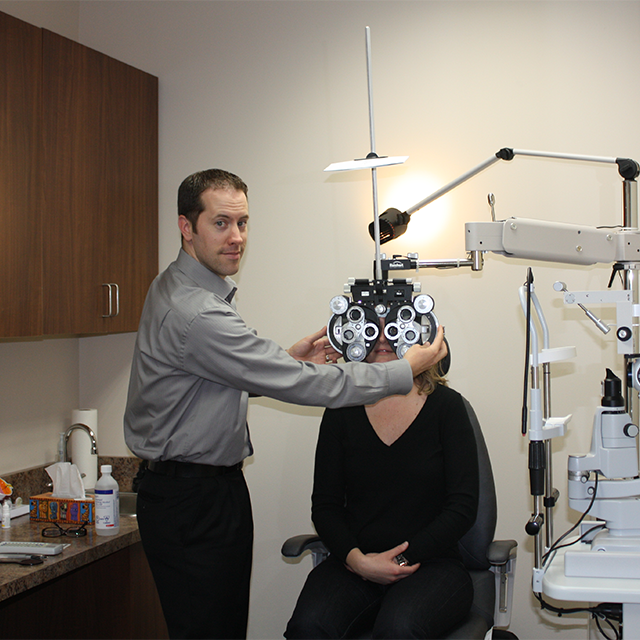 Optometrist
An Optometrist is a health care professional who is licensed to provide primary eye care services:
examine and diagnose eye diseases such as glaucoma, cataracts, retinal diseases, and various eye infections
diagnose related systemic conditions such as diabetes, high cholesterol, and hypertension that may affect the eyes
examine, diagnose, and treat visual conditions such as myopia, hyperopia, astigmatism, and presbyopia
prescribe glasses, contact lenses, and low vision rehabilitation as well as perform minor surgical procedures such as the removal of foreign bodies
test for colour perception, depth, eye alignment, and the ability to focus and coordinate the eyes
To become an optometrist, one must complete pre-professional undergraduate university education followed by 4 years of professional education in a college of optometry. Not only must they have a Doctor of Optometry degree, but they must also pass a national board examination.
Related Professions
An Optician is not trained for eye examinations or treatment of eye disorders. They prepare and dispense eyeglasses, spectacles, and contact lenses as identified by the prescription (given by the optometrist or ophthalmologist). Only licensed opticians who successfully complete specific educational training may fit consumers with contact lenses.
An Ophthalmologist is an eye M.D., a medical doctor who is specialized in eye and vision care. Ophthalmologists are trained to provide the full spectrum of eye care , including delicate eye surgery. If a person requires medical or surgical care for an eye disease or an eye injury, or laser vision correction, he or she will seek the assistance of an ophthalmologist.
After 4 years of medical school and a year of internship, every ophthalmologist spends a minumum of 3 years of residency (hospital-based training) in ophthalmology. An ophthalmologist may spend an additional year or two in training in a subspecialty, that is, a specific area of eye care such as glaucoma, the cornea, the retina, and ophthalmic plastic surgery.